Oh, you've never heard of Christopher Marlowe? Actually, I'm not surprised. No one's heard of Christopher Marlowe. But maybe you know his friend, Shakespeare.
You remember those star-crossed lovers, Romeo and Juliet? Of course you do. Alas, you know poor Yorick too. That's because everyone on this spinning planet read Shakespeare through junior high and high school.
But did you know that a lot of what Shakespeare wrote came from Marlowe? Themes and lines and ideas you slept through in class or read bleary-eyed during overnighters, all from a guy you don't know.
And he was a badass, that Christopher Marlowe. Other writers looked up to him like he mused the muse. He was arrested for heresy. Stabbed to death in a fight. And worked as a spy for the queen. The stuff of legends, no?
That ain't all.
Shakespeare and Marlowe had a lot in common. Born two months apart. Lived in the same area. Both famous writers. Both major influencers. Both worked for the queen.
Everybody loved Marlowe. He was the Beyonce to Shakespeare's Shakira.
So why don't we know him now?
The sad answer is, there's more to "making it" than most writers like to admit.
Not us, though. We don't have to close our eyes and hope for the best, because we learn from the writers who came before us. Especially the ones who failed.
So here's the Christopher Marlowe cautionary tale for writers.
5 Lessons for Writers from Christopher Marlowe Because He Sucked At Them Shakespeare Did It Better
#1 Quality Isn't Enough
Don't get me wrong. Quality writing is fundamental. If you don't write incredible stories, you won't make it. Period.
But Marlowe wrote as well, if not better, than Shakespeare. In fact, Shakespeare borrowed heavily form Marlowe's works and themes. And it wasn't just Shakespeare. Marlowe influenced many writers and artists in his time.
So if quality is just the foundation, what else does it take?
#2 Quantity Matters
Marlowe wrote 7 plays. Not bad. No, that's pretty amazing actually. He wrote 7 really good plays all while earning a masters at a prestigious college, double-oh-sevening, and brawling in taverns.
But Shakespeare wrote more. 38 plays and a slew of sonnets. That's 11 tragedies, 17 comedies, 10 histories, 6 poems, and 154 sonnets if you're counting. And who isn't?
Why does this matter?
With so much more work, there's so much more to study. Shakespeare has launched more PhD careers than teen pregnancies at a Justin Bieber concert. All this study means more crap for these PhDs to teach their undergrad students. And that's more crap for those undergrad students to teach sleepy teens in high schools around the world, the ones who didn't get pregnant at Bieber concerts anyway.
Want your work to be remembered? Write a lot so people can study it. For this, it helps if you live longer.
#3 Live Longer
Shakespeare outlived Marlowe by 23 years. That gave Shakespeare almost twice as many years to write. So don't be like Marlowe. Don't stab people. Because stabbing people motivates people to stab you back. And a writer should know better about people's motivations.
Living longer also gave Shakespeare the last word. So when Shakespeare paid tribute to Marlowe in As You Like It, he had the power to frame the way audiences remembered Marlowe. And it framed how we know him too.
Last one standing gets the last word.
#4 Impress the Queen
Shakespeare spent a lot of time impressing Queen Elizabeth with those history plays.
Oh, you thought he wrote those for posterity and historical accuracy? Yeah, about as much as he wrote for the penny crowd pissing themselves in the front row.
Those plays were for Elizabeth. And, really, who knows if she even liked them? But that didn't matter, because what they were really about was making her look good in front of the peasants. And legitimizing her reign.
How?
The plays portrayed her lineage as powerful and lovable. So they lent an almost holy credibility to her rulership. Marlowe, on the other hand, wrote a few piddly poems for some low totem aristocrat.
Are you impressing the queen? Don't think we don't have queens these days. Maybe no one walks around with scepters and orbs or shiny hats. But queens are all around us, snapping selfies and writing reviews on Goodreads.
How do you impress her? Simple. Write what matters most to her. Reach out through social media. Find out what she cares about and help her with it. These days, people connect with each other online. Sure, social media is a great way to meet interesting people. But take that a little further. Instead of writing blog posts for your mom, write them for the queen.
It's tons of fun once you get the hang of it.
#5 Expand Your Reach
Are you balking at the extra blog posts? Complaining about social media and marketing?
Shakespeare didn't.
Sure, publicity worked a little different in his day. Artists had to find rich patrons to support their craft. Want to be an artist in the 1500's? Spend a fortune on clothing, wine and dine the rich, hope and pray someone bites, and then schmooze, schmooze, schmooze.
Lucky enough to land a patron? Then never, ever piss him off. He's your single source of income. And you'll never diversify that portfolio. Don't even try. No aristocrat would "steal" another's artist. That means you can't write anything he would find offensive. Don't even think about taking risks. And experimental styles? Yeah, give up now. Because if you lose him, who else will touch you?
Feeling enslaved yet?
Social media is cocktails on the beach compared to that mess. Today you can captivate millions while sitting at home in your underwear. And when some internet rando gets his panties in a wrinkle (god forbid you say "shit" in a story), you can find someone else to adore you.
Christopher Marlowe: The Writer's Cautionary Tale?
Okay, technically Christopher Marlowe is a success story. I mean, we are still talking about him 400 years after he died. Some would call that success.
But I'd rather be Shakespeare. Wouldn't you?
Win a Copy of 1001 Trivia Questions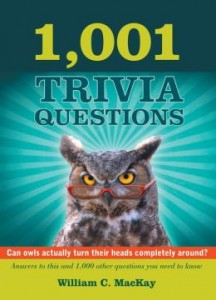 Leave a comment to win a copy of 1001 Trivia Questions. Because where else can you find out where Christopher Marlowe was born or how he died like you can on page 104 of this book? (Unless you Google it. Or read this article. Or ask a librarian. Or a teacher. You know what? Whatever.)
Yes, Marlowe and trivia books go together like famous playwrights and slightly less famous playwrights. Because the only people who know Marlowe now are those guys answering weird trivia questions on Jeopardy.
So leave a comment. What you love about Marlowe or what you hate about Shakespeare. Or what you ate for dinner last night. I don't really care. You're not graded on this.
Actually, forget that. You are graded on this. Because your knowledge of Shakespeare made a huge impact on your grades through school, didn't it? And it's about time Marlowe got a little of that action. So if you want to win the book, answer this in the comments:
In Christopher Marlowe's play, Doctor Faustus, two words appear on the main character's arm when he signs a contract. What are the words and what do they mean? Answer in the comments for a chance to win. [Giveaway concluded.]