Need a little writerly inspiration? I've got you covered.
On Artists Who Pretend Not to Work Hard on Their Art (i.e. Assholes)
Let's call these fakers what they are: assholes. Those artists and writers who pretend art and writing is easy. In The Paris Review #214, poet Eileen Myles calls them out:
There's a whole female industry engaged in materially supporting the illusion that the artist doesn't work directly on his legacy, his immediate success. He's just a beautiful stoner boy or an intellectual. All thought.
What does this do to new writers who hear this crap while they're fighting to develop craft? Who think: if it's supposed to come easy and it's not coming easy for me, I must not really be a writer. This is bullshit.
Anyone who says writing is easy is lying. Maybe they want to make themselves look good or to kill the competition. Either way, ignore them. Because writing is hard. Writing is work. And if writing is hard work for you, it means only that you care enough about writing to do it right. Who else but a writer would care?
Try: Are You Really A Writer? Find Out for Sure with The Charles Bukowski Method
This Anxiety-Busting Pep Talk for Artists from Ira Glass
Maybe you remember seeing Glass's pep talk here before. It's worth a second look every now and again to remind you that when we first start writing there's a gap between our taste in fiction and our skills in writing fiction. And that, if we keep working, we'll close the gap.
This Quote from William Faulkner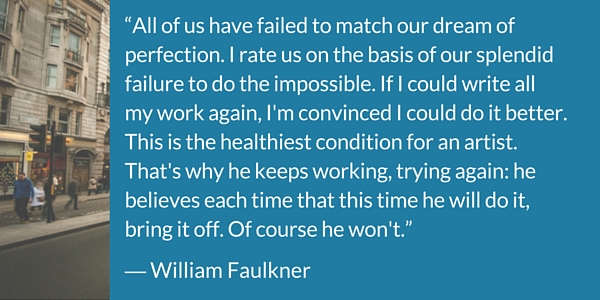 There's something diabolically beautiful about perfectionism. Sometimes it hurts us, transforms us into procrastinators too afraid to face the inevitability of failing on the page what is perfect in our heads. But sometimes, as writers, perfectionism pushes us to reach further than we have any logical reason to reach. And when we fail, it's so much closer to perfection than it would have been if we hadn't reached so far. Faulkner knows what he's talking about.
Inspiration in Just 381 Words
Tried your hand at flash fiction yet? Here's a phenomenal flash fiction story from Brett Jackson at The Vestal Review that will leave you with a big question to gnaw on the rest of the day (the mark of an excellent story). The narrative's in second person, which I am personally a big fan of no matter how many people bash it. What better way to transport your reader than to put her directly into the action with a new persona (heck yes!). But you'll have to see for yourself.
And…More Writing Community and How Tos Than You'll Know What To Do With

I'm honored as hell to be listed as one of the 100 best websites for writers this year. And if you like what I do here, you'll find 99 more bloggers and writers on that list shaking their writer thang and not asking permission. You're sure to find something to scratch that writer itch or cure what ails you. Check them out.
Until next time <3