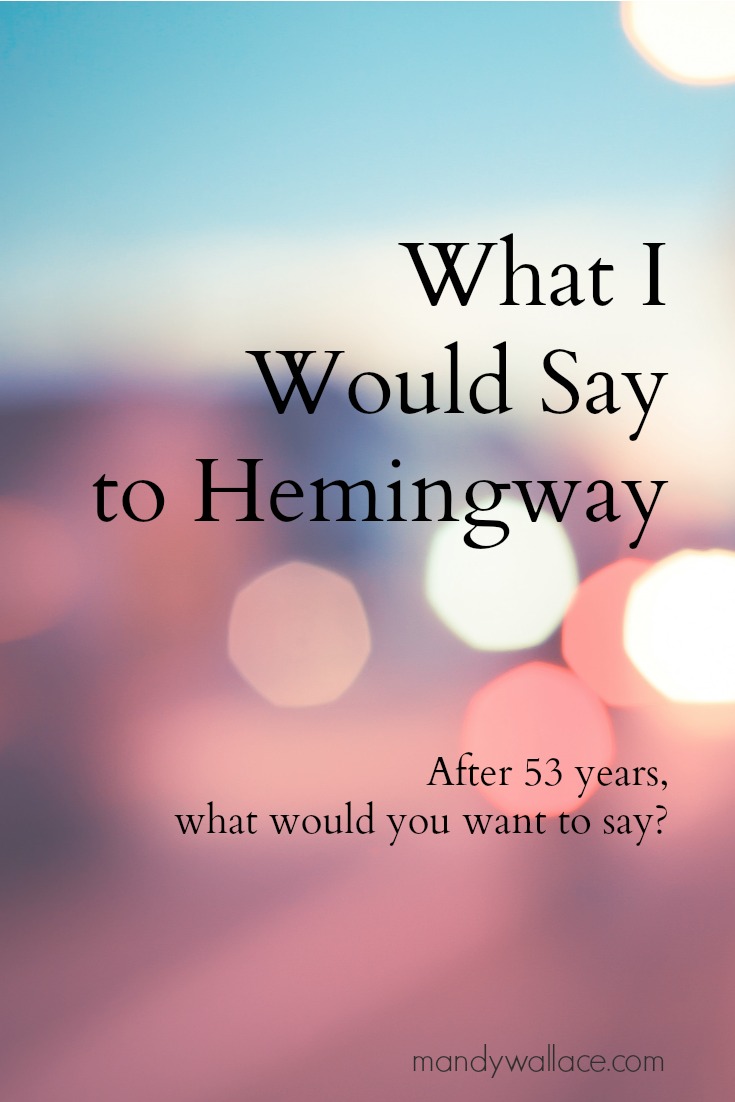 You run your thumb over his photo on the cover.
You expect, just for a second, to feel dips where the holes are printed. But you feel only the rough, high-end paper his photo is printed on. You shouldn't feel disappointed, but you do.
The real photo, the one with real holes from a real staple, is in a library somewhere you'll never visit.
It's a passport photo, probably. He did travel so often. Lived life the way you want to. Maybe that's why you read his novels. But you know that's only part of it.
A piece of his signature in black ink. Official looking stamps border his serious face. The face of a man already through a third of his life. And you know where he's going, but he doesn't.
He's already seen war. He's already loved madly. He's already chosen his calling.
Well, of course he's already done everything he's ever going to do. But when you look at him in this photo, you feel like maybe that 25-year-old boy still exists somewhere. And a little part of you thinks you might still save him. Because you're stupid and romantic and you love too much.
What would he have said about that? Probably the same.
He looks out at you, but you're the only one who can see here. His mouth, both sensual and serious, is frowning. His eyes sparkle with some mirth under cover. Or it's that hunger he talked of so often. Or maybe he's angry.
Sometimes it's tough to tell the difference in men like these.
A perfect imperfection in the hairline to the left (his left, your right) will define his face long after his eyes lose that fierce confidence, that unrelenting determination. Even when his face begins to sag and the hair behind that imperfect border turns white, it will define him. You'll know it's him. Because of that imperfection.
That suit! So conventional you almost laugh. You'd never guess he's an artist. Strong features. Broad physique. You'd never know he was so sensitive to nuance. To the light changing on the trees. To the subtleties of strangers. All those things he wrote about.
How beautiful he is. And despite his clean-cut look, even he would call himself damned.
You read his last book, and you want to speak to him. You reach out like a telegraph through time. You tell him…
Writing this must have felt like coming full circle. Like seeing the beginning, where it all started. Remembering the hope and realizing you didn't have it anymore. Achieving your dreams and realizing they didn't fulfill you. Everything you worked for. Everything you starved for. Now so much paper in a steamer trunk.
I imagine you opening that trunk of Paris memories. You finger through notes from The Sun Also Rises, your first great success. Old clothes, no longer in fashion. You'd say you don't care about fashion. But after "Secret Pleasures," we know enough to know you are lying.
Besides, the clothes wouldn't fit you anyway. Not anymore.
There'd be books. None of Sylvia's, of course. You were too conscientious of her kindness in lending. But books you bought from the The Tour D'Argent's valet de chambre on the quai. Where you forgot the patroness's name, so none of us ever knew it.
Maybe there were pictures. Hadley and Bumby. Zelda and Scott and Ezra and Stein. These things mattered to you once enough to store them. But not enough to take them home. Not enough to drag them with you through Africa or Cuba or the States. Through three more wives and two more children. Not the hard copies, anyway.
You have these things now only because the men at the Ritz begged you to take them finally, after thirty years in some dusty corner of their hotel basement.
And then you were gone. You died in the middle of writing this book. What made you clean the gun that spring morning? And, spring, your favorite season. Your happy, hope-filled season. Was it something in the steamer? Was it something in the stories you told? They said it was an accident. And, you, the expert hunter.
Whatever it was, H, you can't know us now. But we know you.
So "E" is for Ernest.
[This is an article from the 2014 Writers of Kern "A" to "Z" Blog Challenge Series. See the rest of the series.]
What Now?
Someone you know would love to read this article. Be a bro and send it to them.
Decided to keep it all to yourself? That's okay. Who doesn't want to look like a natural? Don't worry, I won't tell. But don't be a one hit wonder either. Get your writing tips on steady drip, and be the first to know when the next article goes live. Just slap your favorite email into the footer below.
Psst: You'll get The Character Most Writers Get Wrong (And How To Fix It) character design guide free.