This isn't just any hotel room.
My Writers of the Future contest story's opening scene takes place in the Head Honcho suite of Bakersfield's Padre Hotel. Why?
Who the hell knows. But I go with my gut on this. And that's all fine and good, except I've never actually been inside the Head Honcho suite at the Padre Hotel. Sooooo, how the hell am I going to write it?
I could just stay the night there. There's something awesome about hotel rooms, don't you think? Even when they're in your home town. All secret and quiet and cozy, and it feels like anything could happen.
But I don't want to leave my dog home alone for a reason like that. And I'm pretty sure the hotel isn't pet friendly. (Boo Padre Hotel!)
So what did I do? I found some rando's online video tour of the Head Honcho suite. And then I mapped it out using floor plan software for decorators.
It was easier than it sounds.
I can't tell you how much better my scene revision turned out after doing this. For so many reasons. Here are just a few of them.
Read on for 3 free floor planners you can use to create your story's settings.
10 Ways a Simple Floor Planner Can Pump Up Your Setting and Immerse Your Readers into The Story
Drawing skills not required: Yeah, no. I can't draw. I'll leave that to the lovely and multi-talented Christine Frazier of Better Novel Project. (As if writing weren't hard enough, Christine can write and teach and draw, guys!) Instead, I'll just drag and drop the floor planning software's pre-made furniture and tile and such into the room the program drew for me. Yay!
No eidetic memory? No problem!: Dude, I have enough shit to remember while I'm writing. Like each character's motivation and arc and all those writing techniques and tips I read in that one book. It's nice to have a visual reference of my setting, so I can go easy on myself in at least one thing. Whew!
Scene texture, please!: So when the hotel door explodes inward and knocks my protagonist backward, what does he slam into? And how does that affect the room? (Answer: the mini fridge. And it knocks the creamers and sugar packets and coffee pot every whichaway.) Knowing that adds unforgettable texture to your story.
Realer than real settings: Now you'll never forget what color you said that couch was five minutes ago. Because it's sitting right in front of you. Talk about a time saver. Plus, that cohesive realism immerses your readers so deep into your story, they'll never forget the experience you created for them.
Bring your characters to life: How much easier is it to write how your characters move through a space, take up space, or feel about a space when you can visualize them in that space? Because you can't write it into the scene if you can't see it.
Translate plot outlines into the details of smaller scenes: I don't know about you, but I'm a planner more than a panster. That means I love big themes, major plot points, and writing random scenes that don't have a specific home in the story. Yet. So writing the smaller details of a scene sometimes eludes me. If that sounds like you, sketch out your scene. Keep it close by. Glance at it as you write. And your story will go from outline to narrative faster than you're used to.
Save time by writing setting into the first draft: If your story is heavy on the dialogue and short on setting detail, a sketched out floor plan will save you time on multiple revisions. Because the more setting that ends up in your first draft, the fewer drafts you'll have to write. That's texture, grit, and sensory detail baked into every first-draft page. Delicious.
Ground speculative fiction tales in a realistic world: You know what's so great about Robert Heinlein? George RR Martin? Gabriel García Márquez? They're all speculative fiction writers who brought the fantastical elements of their respective genres to mainstream readers. You don't have to love science fiction or fantasy or magical realism to love these authors' works, because the characters in their stories respond to the fantastic in realistic ways. That makes it easy for readers to identify with them. So ground your speculative fiction tale into a specific, everyday setting. Hello alien abduction in the Head Honcho suite.
And now, your free floor planners!
3 Free + Easy Floor Planning Programs (Story Scene Sketchers!) for Writers
#1 Room Sketcher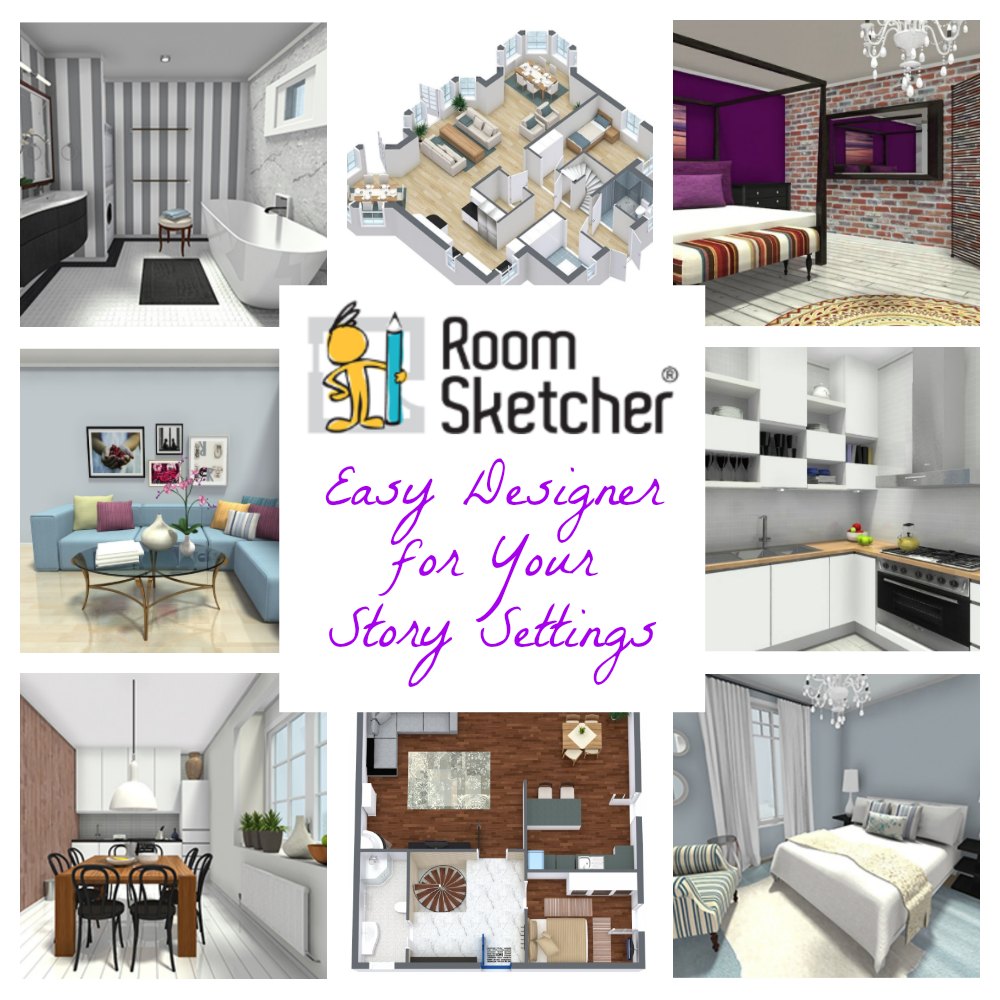 I settled on Room Sketcher to design my story scene's setting because it was the quickest to learn, had all the options I needed to match my sketch to the Head Honcho suite, and let me get to writing that much sooner.
If your story setting is an everyday but real world setting, then Room Sketcher is for you.
Skill Level: Easy. 5 minute learning curve.
Commitment: None. Create your projects online. No account necessary unless you want to save your project for later.
Pros: Drag and drop design. Lots of furniture options. Easy to add or remove walls, windows, and doors or to change room dimensions. Take 3D photos of the space. Pre-made furniture. And a variety of gorgeous, pre-made room layouts.
Cons: Limited furniture and setting options. Much of the furniture is of the IKEA variety. Can't change furniture dimensions. This software is made for home improvement and interior design. That means you can't create a medieval castle or space cowboy cruiser. But for real world interiors, you can't beat the ease and options of this program.
Get it: Room Sketcher
#2 2020 Icovia Space Planner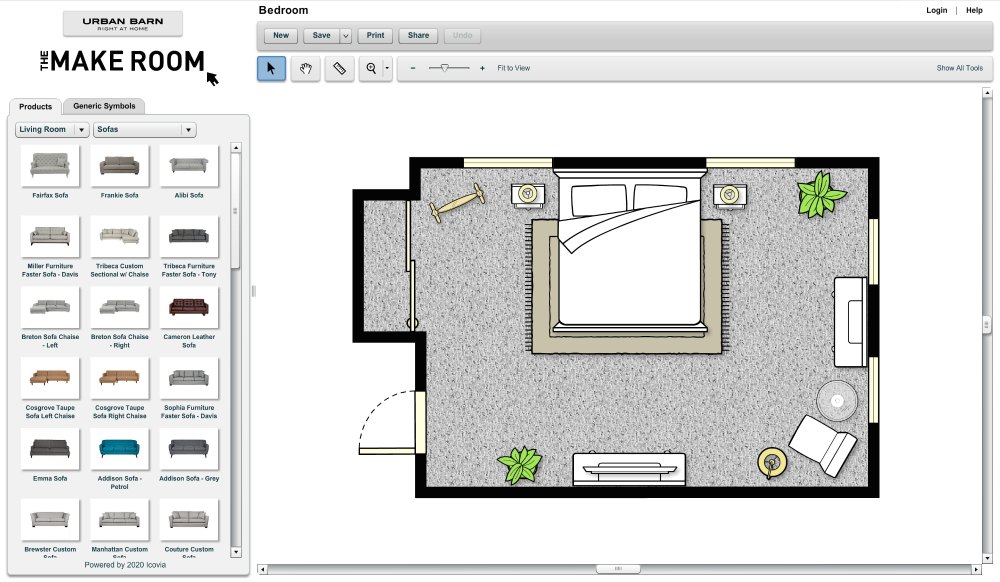 I haven't used this program personally. It just looked like a great option when I went searching for floor plan software to design my scene's setting.
In the end I went with Room Sketcher, because it was easier to change the room dimensions than the default version of 2020 Icovia that I landed on. Turns out this program has many versions with even better options. I included the best one (Urban Barn's) below.
Skill Level: Easy. 3 minute learning curve.
Commitment: None. Create your projects online. No account necessary unless you want to save your project for later.
Pros: Furniture options galore! And you can easily change the dimensions of every piece of furniture, which makes it easier to copy a specific location's layout. Drag and drop design. Icovia is the easiest to use of the three options.
Cons: 2D/bird's eye view layout only. Icovia doesn't offer the flooring or furniture material options that Room Sketcher does. Instead the layout is in black and white outlines, more like a pencil drawing. But you may prefer the simplicity and flexibility this offers if your setting is highly specific.
Get it: 2020 Icovia Space Planner. Want better furniture options? Try Urban Barn's version of Icovia.
#3 Google SketchUp Make
Video: A few interiors designed in Sketchup + their Photorealistic renders. (Just one of SketchUp's high level options!)
I've used Google SketchUp to design venues for library events, my future Tiny House/Writer's Retreat, and a myriad crazy ideas just because. And I can say that it is SO much fun. Once you get the hang of it.
That learning curve is worth it for writers if your story or scene's setting is at all outside of the real world. (Space Western, anyone?) Because you'll need Google SketchUp's flexibility and tools to bring what you imagine to life from scratch.
Skill Level: Moderate to Advanced.
Commitment: None unless you purchase the pro version. Must download the software.
Pros: 3D modeling. Highly flexible. Customizable. Not limited to interiors or real world settings. Create anything you can imagine. Furniture, buildings, futuristic architecture, creatures, people, fashion, technology. Anything. A warehouse of pre-made items like furniture, people, buildings, cities. Extensions and add-on tools available.
Cons: With this many options, you won't be surprised to find that Google SketchUp has a steeper learning curve than the other two options. You also have to download the software. But the Make version is free. So start with Google SketchUp's basics, and work your way up.
Get it: Google SketchUp
There you have it. A few options to create your story's setting in sharp detail. Plus a billion (okay, 10) ways using a floor planner can take your story up a notch.
What did I miss? Know another great floor planning program? Share it in the comments.