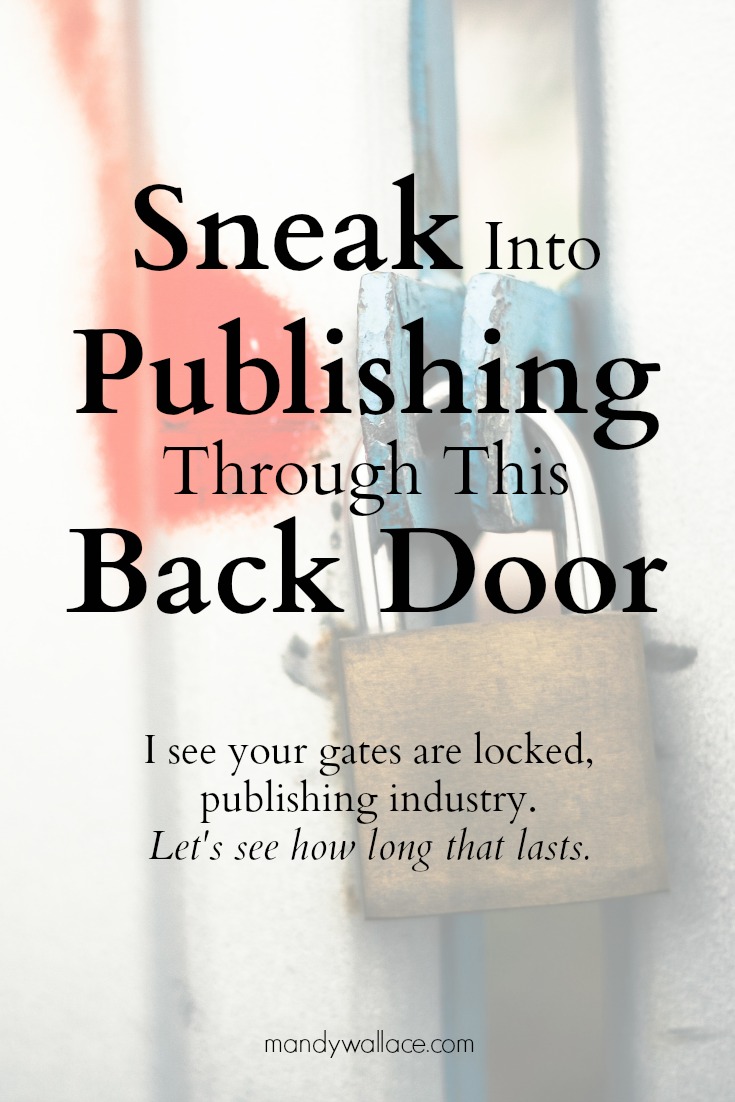 Don't get me wrong. I love to write. (Damn it, Roland, if you want to be the protagonist, you have to follow the outline!) Writing keeps me grounded. (I could totally become a gajillionaire through writing. Yeah, totally.) Writing keeps me focused. (Where did I put those worldbuilding files? I swear they were right here!) Writing adds beauty to a sometimes ugly world. (For heaven's sake, Roland, when did you become a child molester? Have you even looked at your character sheet? I spent hours on those. The least you could do is conform. A little? No? Damn it!)
Okay, fine. Writing scares the bejeezus out of me. It's complicated. It's confusing. And I'm so often out of my depth, I should just install a decompression chamber around my writing desk.
But when I'm not writing, I'm thinking about writing. Guilt follows me around like a hungry, angry puppy on days I don't write. I lay awake at night thinking about my characters' sleep habits. Writing feels like what I'm here to do. So, you see? It's not really my will. It's more of a hostage situation. (Send help!) Even if I never publish, I'll be writing.
But I still want to publish.
Write So You Can Publish Publish So You Can Write
I want to publish for two reasons.
One, I'd like to connect with people in my own, introverted way. (Hey, I see you there, fellow human. This is what the inside of my world looks like. No, please, enjoy it from over there.)
The other, maybe more important, reason to publish is so I can write more. To write more, it has to be my job. Which means I have to get paid to write. Which means I need to publish. (Logical? Totally.)
If I can't blast through the publishers' locked gates, I'm suddenly in the first two rungs of Maslow's Hierarchy—way below the pinnacle where writing hangs out. Translation: I won't be writing. I'll be doing something less fun for money. And crying. Or starving. And staring into the faces of my children as they eek out "mama, I'm hungry." (Okay, I don't have children, but you get my point.)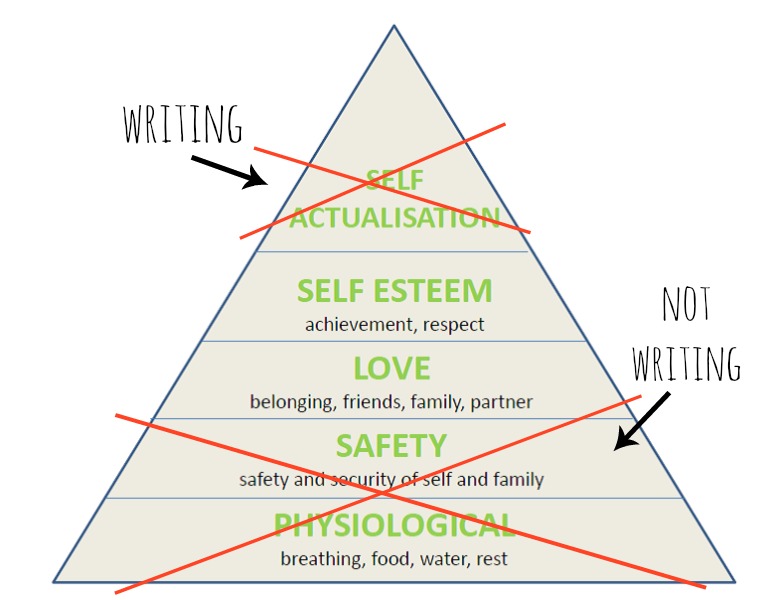 Motivation: to publish. Conflict: The publishing industry gates are locked tight. Stakes: write or die. Resolution: The (Too-Bad-It's-Not) Patented Mandy Wallace Publishing Strategy.
The Secret to Publishing: Tenacity + Sneak in the Back Door
Step One: Keep F*ing Trying
What does smoking have to do with publishing? Nothing. Unless you quit smoking. And then you plan to bring that same tenacity to publishing too. Are you with me?
It took a long time to get here. But I finally quit smoking because I never quit trying. I failed a lot first though. In fact, I tried to quit smoking 22 times before I finally succeeded. Twenty. Two. Times. And I failed. Every time.
Want to know how I finally succeeded? There is a trick to it.
Fail. Fail again and again and again. Make best friends with failure. Welcome him in like a dirty sailer after seven months of abstinence. Swim in failure. Till your fingers get all pruney. Slurp failure up like mushy canned sardine guts and learn to love the flavor. And after you fail? Do it again.
You'll finally succeed when you get sick of starting over. (If you think that's not powerful, you haven't been paying attention.)
That's what I'm bringing to the publishing industry. But it isn't enough. So I also have a strategy.
Step Two: Sneak in the Back Door
If success is about who you know, then where do you meet the people?
Enter Patrick Rothfuss, stage left. (His epic beard stirs gently on the breeze, even though our stage is indoors.)
Pat has a fairytale writing career. New York Times bestsellers. A degree in word-smithery. (I'm assuming.) The way he describes a verb inspires simultaneous swoons and a writer's envious rage (see if you can spot what I mean). In short, the man is a genius of the written word.
But before Pat's passion became his livelihood, he was a loafer. A really, really hard-working loafer.
Pat stayed in college for-ev-er.
Maybe he did what Penelope Trunk criticizes so many of us for. Maybe he "prolonged childhood by continuing to earn grades rather than money." I don't blame him. I did the same thing. (Le me: "I don't know what to do with my life after college. Solution: study abroad!") It took Pat nine years to earn his degree. Through it all, though, he worked on The Name of the Wind. And the rest is an unpublished writer's wet dream. (Yep. I went there.)
I love Pat's story, and not just because it validates my life decisions. Pat is a pillar of awesome in all the ways that awesome counts: he's unselfconsciously passionate, funny, confident. And his poetic prose causes floods of sensation in his myriad fans. (Or is that just me?)
There are many awesome humans. And many awesome writers who haven't published. But Pat knew something other writers don't. And Pat acted.
He submitted his story, "The Road to Levinshir," to Writers of the Future.
Enter Writers of the Future, stage right. (Pat and WotF shake hands.)
Publishing's Super Secret Back Door
"It all started when I won the Writers of the Future Contest. Without them, I can honestly say I would not be where I am today." – Patrick Rothfuss
Writers of the Future is a writing contest. No entry fee. No gimmicks. No bullshit. Yes, they offer $5k to the annual grand prize winner. But for most entrants who luck out, they'll just see their work in print. That's great, but not uncommon for writing contests.
Don't scoff, though. For the winners, Writers of the Future offers classes with huge names in publishing. We're talking Big Names with Mad Skills. So for my compatriots out there who call Ender's Game a formative experience of their childhood, you begin to see the awesomeness that is Writers of the Future. Because you get to call giants like Ender's Game author, Orson Scott Card, your mentor.
Sure, he might brutally tear apart the flaws in your manuscript (if you should be so lucky), but you'll come out battle-forged on the other side.
WotF winners like Patrick Rothfuss have gone on to enjoy the kind of writing careers that you and I dream about. You know those dreams. The ones that get us through those after-yet-another-rejection-letter cold nights. (Or sweaty nights if you live in the dessert and can't afford your AC bill, ahem.)
The best part? WotF is for amateurs only. Writers, like you and me, who have never been published compete only against other unpublished newbies.
That's great news. Because if you win a place in Writers of the Future, professional writers point out your work's problems instead of just the exit.
There's wiggle room in that "amateur" definition too. So if you've had one or two stories published before, check out their contest rules to know where you stand.
Seriously? That's Your Big Strategy?
Yep. That's it. No bells. No whistles. No fanfare. Just win Writers of the Future. (Oh my god, am I crazy?)
We'll see how far I get.
But wait! A chink in the plan. (With mixed metaphors like this, I'm destined for their rejection pile. Sigh.) Before I submit my story to Writers of the Future, I have to write a kick ass story for Writers of the Future. And that, unfortunately, is the tricky part.
Will I make it? I'd be honored if you stick around to find out. If I fail, you'll see the pitfalls coming and avoid them yourself. If I succeed, you get the tricks I learned along the way.
Sounds like a win/win to me, baby.
The Road So Far
Here's my journey so far with the Writers of the Future contest goal (in reverse order):