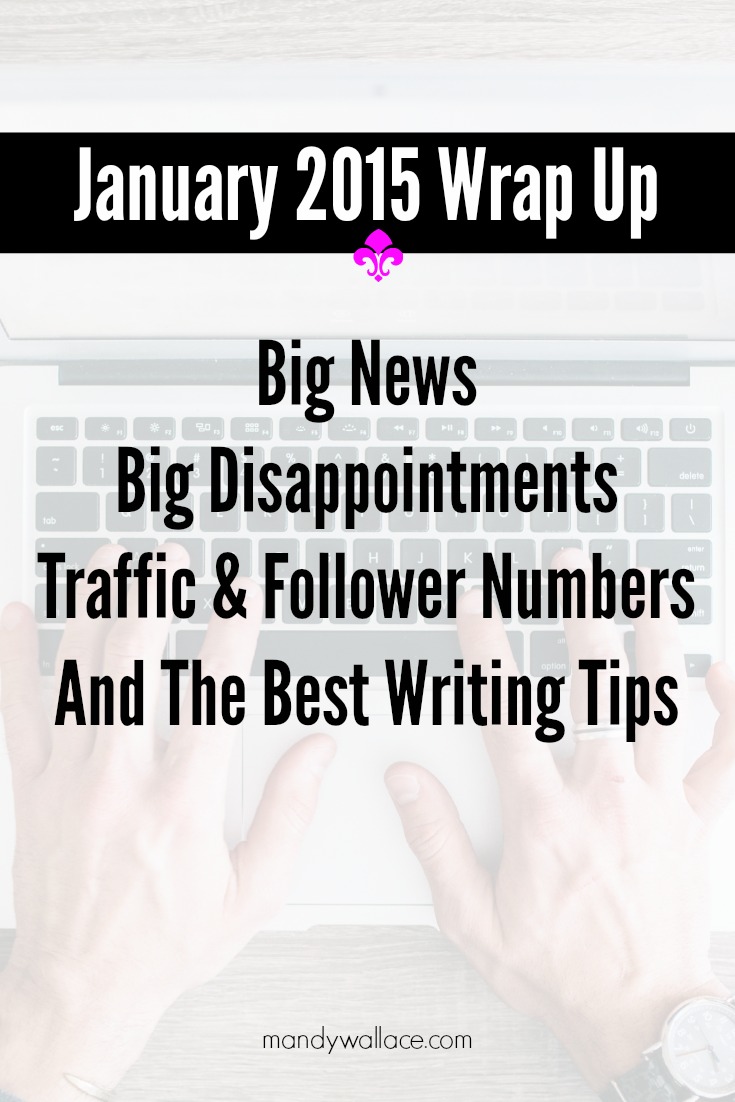 Did you miss any of this in January?
What a month it has been! Yahoo Finance featured me in an article and linked to the site, traffic was an up and down roller coaster ride, I shared lots of new writing tips, and readership continues to grow.
I also met some fine new writers and learned a ton about blogging.
Here's what happened.
The Big News in January
Gave an interview to Mandi Woodruff at Yahoo Finance about the economic challenges millennials like me face today. You know from what I've written about challenges millennials face on the site before that this is a hot button issue for me. So it was exciting to share my views on a wider platform.
Read the article // Baby limbo: Millennials struggle to find the right time for parenthood
The Big Disappointment In January
So it turns out that January is a slower month for websites. I found that out the hard way first (when traffic took a dive this month), which sent me on a search of web trends. College students went back to school, which means they weren't on the site for how to travel the world for cheap. And that wasn't the only post to idle this month.
I'd hoped to ride the traffic uptrend ever higher in January since the past few months had seen 65%-250% growth month-over-month. But the traffic surge this past week is the only reason the site made the teensy gain it did. Bummer.
Did You Catch These Yet? What Went Live in January
Online Transparency for Better Writing: A two-part series on how to use online transparency to write better. Since the world is trending toward transparency anyway (hiding less and becoming more authentic), you can leverage the trend as a writer to write better fiction and blog posts. The articles: The Jennifer Lawrence Effect: Become a Better Blogger through Online Transparency and 5 Ways Writers and Bloggers Can Achieve Online Transparency Without Committing "TMI".
Best Places To Write Away from Home: Kicked off the Best Places to Write in Bakersfield series with a review of Dagny's Coffee Company in Bakersfield. Even if you don't live in Bakersfield, get an idea of what writing in your local coffee shop can be like (without the worry of what people think). Dagny's is a great place to write or work away from home. And this article shares both detailed and snapshot scorecards.
Beat Writers Block: I shared a seriously effective approach to beating writers block. This two-part mini series was like a psychological hack for writers that neutralizes anxiety then eases you through the biggest hurdle so you can finally write. The articles: Too Scared To Write? The One-Two Punch Writing Approach That Finally Got Me Writing and 5 Challenges of The One-Two Punch Writing Approach (And How To Overcome Them).
Get That Story Out of Your Head And into The World: Once you've got that part under control, try this month's 3 Genius Ways To Get Your Story Out of Your Head And into The World for what to write in a story scene.
Politely Say No To People Who Want Your Attention When You'd Rather Be Writing: Writers: 5 Scripts for Saying No To Attention-Hogs (Without Hurting Their Feelings)
How To Get 1k Daily Unique Visitors To Your New Blog Using Pinterest: For blogger friends, I shared the exact techniques I used on Pinterest to help bring this site from zero to 1k daily unique users in just 3.5 months. A lot of these techniques you may have seen before, yet so many bloggers still don't apply the concepts. That's why I gave an in-depth critique to a fellow blogger's website where I broke down exactly what she did right and what she could do better to build traffic at her site. You can read that article here.
And of course, writing prompts.
Top Performing Articles in January
It's no surprise that How a Broke College Student Saw Europe still draws the most traffic. And as much as this article brings in numbers, it's still my little red-headed step child of an article.
I'll tell you why this article just can't win with me.
When it performs well, it attracts subscribers who end up unsubscribing when they realize my blog isn't about travel. So I get mad at the article. Then when it doesn't perform well, my traffic takes a hit. So I get mad at the article. Totally illogical emotions to have about an article. But there you have it. We're in a love/hate relationship whether or not it performs well. I do love that it has almost 19k pins by itself though <3
Are You Really A Writer? Find Out For Sure with The Charles Bukowski Method started to surprise trend in late January. It was a fun one to write and a fun, inspirational read (if I can say that). So I'm happy to see it make the rounds with writers who need the message.
And, of course, The Character Most Writers Get Wrong (And How To Fix It) is still the best-performing article on the site that's actually about writing.
January Follower and Traffic Counts
January pageviews: 38.5k
Subscribers: 557
Pinterest: 2k
Twitter: 1.1k
Months blogging since reboot: 5
Number of posts published in January: 13
Don't Miss A Thing in February
Someone you know would love to read this article. Be a bro and send it to them.
Decided to keep it all to yourself? That's okay. I won't tell. But get your writing tips on steady drip, and be the first to know when the next article goes live. Just slap your favorite email into the footer below.
Psst: You'll get The Character Most Writers Get Wrong (And How To Fix It) character design guide free.