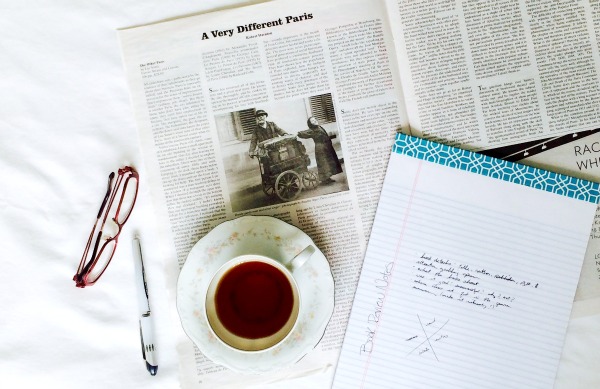 I was going to write a post today about critique groups. But my brain is on overdrive, so it couldn't decide on just one aspect of critique groups. Which meant I ended up writing down a billion ideas for critique group blog post topics. But none of them I wanted to actually write about.
So I decided on a list post. Something easy that lifestyle blogs do all the time, like Friday Favorites: What I'm Drinking/Reading/Loving This Week. And then I thought, That's not what Ramit Sethi would do. That's not what Penelope Trunk would do. They'd stick to their blog's style. Except my blog style is all over the place right now. And I won't be assessing exactly what I want the style of this blog to be until April, when I'm tackling the redesign that fell through last month.
Also, it's not Friday, so Friday Favorites is a stupid idea.
Back to writing critique groups. Okay, how about # Reasons to Join a Critique Group. No, that's boring. Who's going to click on that? How about 21 Reasons to Join a Critique Group If You Want to Get Published. That's better. A little. Okay, how many reasons can I come up with?
I make it to 21, but a bunch of them are really just different ways to say, For The Camaraderie! So I combine the duplicates, and I have 18 reasons to join a critique group.
I spend an hour staring at the 18 reasons to join a critique group.
I try to convince myself to explain each reason because you can't just have the list. That wouldn't help the writers who really, really need to join a critique group. Because joining a critique group sounds hard. It sounds like one more thing you have to do when you're tired from working and writing all month and you just want to see what shit those poor fuckers on The Walking Dead step into this week. It's not until you're in a critique group, that you realize what your writing's been missing. I stare at the list awhile longer.
Forget this. Blog posts are dumb. Let's see how many likes my book review Instagram photo got instead. Eh, not bad. And that's a damn pretty picture if you ask me 😉
An hour later and I'm knee deep into some MBTI article on Facebook and can't remember how I got there. Oh look, someone else who doesn't understand MBTI (hat tip: Melissa of the PINTJ Facebook group is how I found that interesting article. Thanks, Melissa!).
Damn it, Mandy! Bad Mandy! Finish your blog post!
The thing is, I've missed you. I've also been working hard on a book review this week that I finally submitted today (heck yes!). For some reason my brain took that as permission to go on vacation without the rest of me.
I tell myself: Okay, forget it. Just take a break this week. They won't hate you. They're writers. They'll understand.
Except when you don't write, readers ditch you. If you blog too, you know what I'm talking about. It's not the reader's fault. It's just that you're not the end all be all of their universe (as much as I'd like to be).
Which means I need to write something, stat. I need to write about not writing. I need to…
Ugh. I give up.
Thinking of you,
<3 Mandy
PS: I'm drinking a 50/50 mix Maharaja Chai Oolong/Samarai Chai Mate from Teavanna, reading The Traitor Baru Cormorant (affiliate link + definitely recommended), and loving the idea of a vacation this week.
PPS: the winner of the writer goody bag is Alvarado Frazier. Congrats, Alvarado!
Talk soon.