Monday I shared how the transparency trend in blogging is here to stay. And that the best you can do as a blogger and writer is to ride that pony into the sunset before it's lashed to the wagon tour ride where everyone has a ticket.
But taking advantage of a trend has its challenges.
I mean, not everyone sees where our culture is headed. We may be headed toward complete transparency. We may be on the road to giving up a lot of what we consider individual privacy. But right now, sharing stuff online can get you fired.
It's happened to bloggers before, and it will keep happening until employers give up on the idea that employees are going to stop bitching about their jobs, wether online or off.
This doesn't apply only to bloggers. It's true for fiction writers too. Good writing is writing the truth, even when it embarrasses us.
But we still need to live our lives in a world that hasn't caught up yet.
So where is the balance? Where is the line between TMI (too much information) and authenticity? Just how vulnerable do we have to be as bloggers and writers today?
Here are a few ways to help you find balance.
5 Ways To Achieve Online Transparency without Committing "Too Much Information"
#1 Examine Your Motivations
So there's this pinner with a massive following on Pinterest. Most of her pins are of the fangirl variety, things like Supernatural and Marvel movie gifs. She's great at getting engagement because she shares personalized messages with interactive features. That's what she does right.
Then one day, along comes one of her pins in my feed where she's lamenting the loss of 20 followers.
In this pin, she calls herself "worthless" and threatens self-harm in response to the loss.
To my surprise, as my finger twitches over the unfollow button, I notice that a number of her followers had commented with pleas for support and reassurance. This pinner had done this before! And it had gotten her more followers. (!?)
Ick.
This was not transparency. This was pity-seeking.
Pity parties aren't cute. Your readers can't learn from it. So ask yourself why you're sharing something before you share it. Is it for pity? Attention?
If the answer is yes, then it's best to abstain.
#2 Raise Your Emotional Awareness
You can't be transparent or authentic as a writer until you understand your own emotions. So practice self-honesty first. One of the qualities that makes Jennifer Lawrence so charming is that she's incredibly self-aware and honest about what she's thinking and feeling.
Not everyone is naturally in tune with their feelings. But you can increase your emotional awareness with practice.
As an INTJ, emotional awareness is a challenge for me. So I've started to check in with myself throughout the day. I'll ask myself how I'm feeling. Why I'm feeling that way. If I need to change something to feel better.
It sounds silly, but try it. It works.
Not only will this help you deal with stress better. It can make you a better writer and blogger because some of the best writing material comes from these experiences.
But you can't write about them until you've identified them first.
#3 Admit When You Make Mistakes
One of the best things about blogging is the personal face you can put on your brand. And one of the toughest things about blogging is that everyone can see when you make a mistake or when you've crossed a line you didn't plan to cross. There's no brand to hide behind.
Blogger, James Roberts, makes a good example here.
Besides blogging, James is a ghostwriter and freelance editor. James also rage tweets. I wouldn't normally have followed James on Twitter after reading tweets like this one…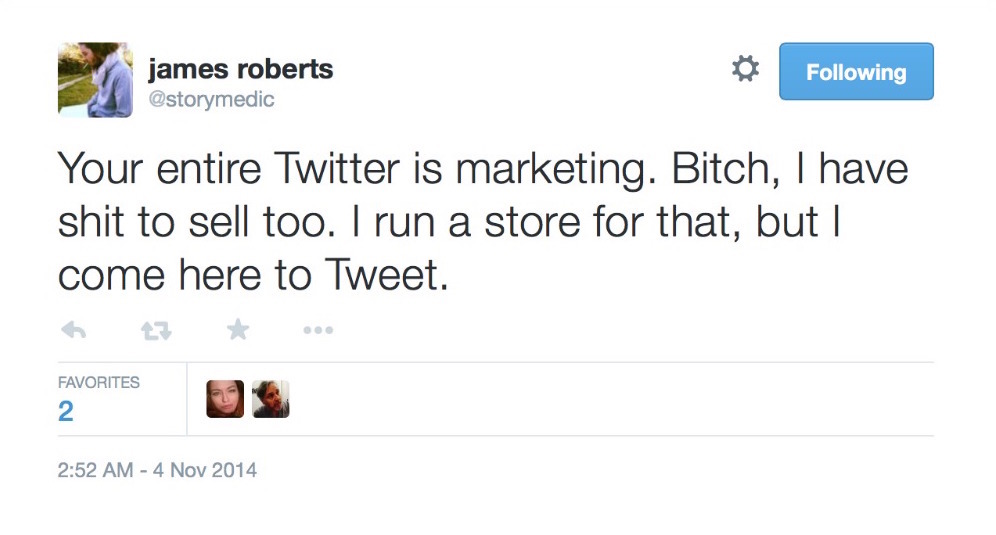 Or this one…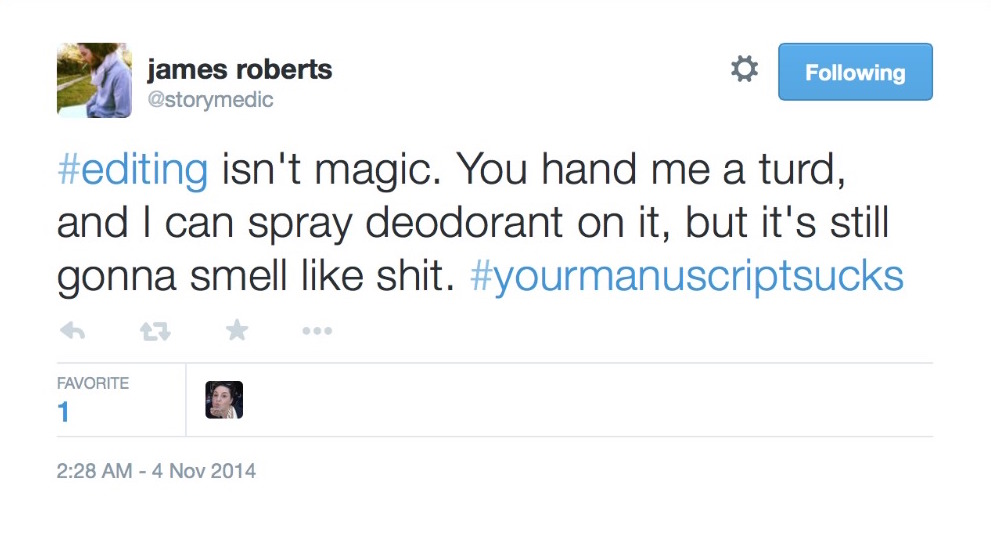 But it's kind of charming when he owns up to his mistake in the tweet below. It transforms what most would see as a ticking time bomb into a human guy with a human flaw.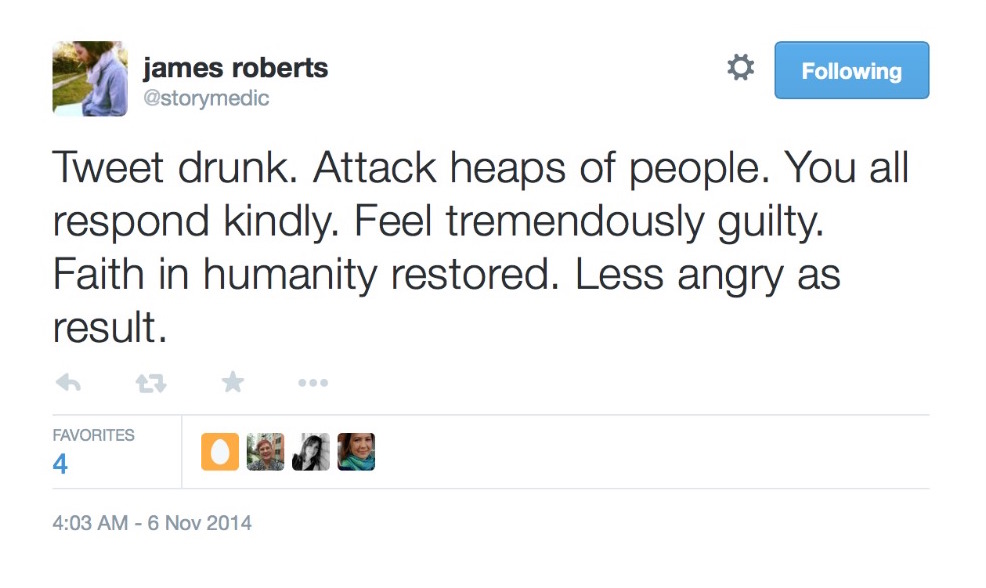 I'm not saying you should rage tweet and then apologize for it. Because that would get old fast. What I am saying is be more human than brand.
James could have deleted his rage tweets. But instead of hiding them, he owned up to them.
That's online transparency you can learn from.
#4 It's All About Your Reader
Embracing transparency as a writer and blogger is about sharing your human experience in a way your readers can learn from. You want your readers to see themselves in your work. To identify with your writing.
You may be writing about yourself and your personal experiences. But it's really all about your reader. So keep your ego out of it.
Besides, it's easier to write honestly when you aren't thinking about yourself or how you look.
#5 Sometimes You're Going To Get Hurt
Any job you choose has drawbacks. Blogging and writing are no different.
When I wrote about my grandmother's death last month, I shared things about my personal life that not everyone in my family was happy to see shared. My sister was particularly upset that I talked about the conflicts in her and my relationship. And she didn't like that I talked about the conflicted relationship she had with our grandmother either.
Eventually she forgave me. But first she gave me the cold shoulder. And I understand why. Even though I asked her permission before sharing it, she felt that she hadn't fully understood the implications.
That won't stop me from writing honestly in the future. (While being more careful about the things I share that have to do with other people.)
I'm sure there's an entire legal minefield to consider when it comes to sharing personal information. That's beyond the scope of this article. And I encourage you to seek out information on the legality if it concerns you.
But I intend to write through it anyway. Even if sometimes I get hurt. Even if I piss off people who matter to me. Because good writing is honest writing. And it's part of the job.
Every Job Has Its Challenges
Online transparency isn't easy to master. There is no one-size-fits-all solution. There are legal issues to consider. And personal ones.
It isn't easy to find the right balance. And I'm writing about it because it's a challenge that I'm navigating as blogger and writer too.
Eventually, you may end up hurting someone. And that someone may be you. My sister forgave me for sharing personal information about our family dynamic. And I forgive her for choosing a major that keeps her so busy that she practically disappears for entire semester-long periods.
The point is, no matter what career choice you make someone is going to have a problem with it. Writing is no different.
Writing, like life, is complicated. Writing with transparency is complicated. But I won't let either stop me from writing with authenticity and transparency.
What about you?
This is part II of the writing with online transparency series.