It's a sad truth.
A lot of would-be writers and bloggers are terrified to share their knowledge and experience online. They wonder, "why would anyone listen to me?" But thinking like this leads only to skill-hoarding.
Because when you're afraid to share what you know, we all miss out.
You're going to run into people who ridicule your work. People who tap into your fears and make you feel like you have to be perfect to follow your dreams. But you can't please everybody.
That doesn't mean you should hide out afraid either.
Because for every person who criticizes you, there are a dozen more who desperately want to know the very skill or insight you have to share.
Don't you think it's your duty to share it?
Perfectionism is the Writer's Worst Enemy
When I blog, it's about sharing with other writers what I've picked up in my writing journey. Because when another writer succeeds, that means there's hope for all of us.
But there are people who prey on writers. They claim to be the toll keepers on the only path to success. They prey on our fears and make us feel like we have to be perfect to share our writing. So that pretty soon we're afraid to make any move at all in case it's the wrong one.
Why?
It gives them control of our dreams and leaves us feeling powerless.
Perfectionism kills passion. Perfection kills creativity. And it gives us nothing in return.
You're a writer. You know what I'm talking about. Maybe you've been to a writer conference where they pass out warnings to writers like poisoned candy.
Have you heard advice like this?
"Be careful what you write online. It'll follow you forever."
"An editor's going to read your blog someday. You don't want to look stupid, or they'll never buy your manuscript."
"What if you say something embarrassing? You can never take it back if it's online."
Sound familiar?
Don't let them take your writing dreams from you. It's our sense of perfectionism that leaves us vulnerable to fear-mongering. And it's contagious. But there's no reason to fear writing what matters to you, whether online or in your current work in progress.
So here are five common fears about writing online that you can ignore.
Fear #1: An Editor Will Reject My Manuscript Because of Something I Wrote On My Blog
Writers who worry about this don't write much online. That's great for unscrupulous editors and publishers because it means you won't figure out how much power you have as a writer in this digital age.
Once upon a time, you had to rely on a publisher for everything. They were your editor, printing press, distributor, and marketer. But these days, you don't need them as much as you used to. Because you can do it yourself online.
For many writers, publishers are little more than pre-packaged printing presses. Because if you have your own audience—on your blog or social media—you've already done the heavy lifting.
These days you can find an audience, distribute your work, meet other professionals, and build your writing skills yourself.
So who cares what editors think? It isn't his day anymore. And when you have a following big enough, editors seek you out. They don't like what you're doing? Show them the error of their ways with your wild success. And when they offer you a promising contract so they can tap into your audience, be the bigger person and don't mention their earlier hesitation.
The world is changing. Be gentle with the stragglers.
Fear #2: You Can Never Delete A Mistake From the Internet
Have you heard this one? "Everything is permanent on the internet. Even if you erase it, it's still there."
Well, that may be so. But the "permanence" of the internet isn't really all that permanent after all.
Remember that chocolate rain guy? His video went viral on YouTube and landed him talk show spots and commercial deals. What's he doing today? Oh, you don't know? Yeah, me neither.
My point here isn't meanness but this: being unknown is worse than making a mistake if you're a writer. So don't worry about what people think. And don't worry about making mistakes. It's going to happen. But the internet is full of Phoenix stories. If you make a mistake, just dust yourself off and start again.
Sounds like life, doesn't it?
Fear #3: What If My Blog Sucks?
So what if it does?
Blogs are kind of like credit. You know how it's so much easier to get a car loan with a bed credit history than no credit history at all? Yeah, blogging is kind of like that.
It's not uncommon for hiring managers to reject applicants who have no online presence, like a blog or Facebook account. Same with potential readers and in publishing.
What do you think of someone who isn't Googleable? Do they really exist? Are they relevant?
As a writer, you need to be online. That means letting go of this need to be "perfect" or "ready" before you get out there.
Because having no blog is worse than having a bad one.
Fear #4: I Don't Know the Rules of Blogging
There aren't any.
Actually, that's not true. There are definitely things that will increase your audience reach or get people to share more. And there are skills to develop depending on your blog goals. I'm building my skills everyday because part of my goal on this blog is sharing the things I learn with other writers and that means getting my articles to more people.
But the people who tell you that you have to write a certain way on your blog are full of it.
A blog is a sandbox. You can try new things. Experiment. See what works and what feels right.
It's a place online that's just yours. You can move lightening fast on your blog with ideas that would normally get clogged up in committee meetings and group decisions. You can experiment with writing styles and techniques. You can practice your skills.
Your blog is your turf. It's the one place where you make the rules. So revel in it. You don't need permission.
Fear #5: I Don't Sound Smart Enough to Blog
Too many writers think they have to write a certain way to sound smart. But blogging isn't a college essay. And formal writing doesn't belong here.
There's a reason newspapers write news at a fourth grade level. It's not because their readers are dumb. It's because their readers are busy. And a fourth grade level article is easy to absorb, even when you're distracted with work responsibilities, deadlines, or kids.
So on your blog, write how you speak. Readers will respond better, no matter their education level.
Blogging like an academic paper doesn't make you sound smart. It just makes you inaccessible.
But like every rule, feel free to ignore this one. It really just depends on you, your goals, and your readership.
What All This Blog Fear-Busting Boils Down To
New York Times bestselling author, Patrick Rothfuss, says it best.
It's like when you're learning to ride a bike or Rollerblade. Everybody falls down when they're just starting out. It's embarrassing, and it hurts, but it's the only way to learn. That's how you get better with writing, too. You keep working on it and get a lot of practice.
Blogging is like that too. Practice and failure are fine. Perfectionism isn't.
Win a Copy of Keri Smith's Perfectionism-Busting 'Finish This Book'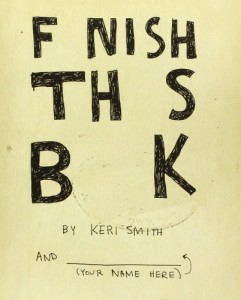 Like her earlier Wreck This Journal, Keri Smith's Finish This Book is an excellent primer against the perfectionism that kills our creative spirit. You'll move through the content and help create it, filling in the blanks in a collaborative, creative effort.
Keri Smith's work has helped writers break through creative blocks using gentle encouragement to do what we're all afraid of: make a mess and break the rules. She inspires creativity without the fear.
It's sitting on my bookshelf right now, just waiting for you to win it.
For a chance to win a copy of Finish This Book, answer this in the comments: What fears do you have about writing or blogging that keep you paralyzed?
(Winner selected. Giveaway now closed. Congratulations to Amal Rose.)